Biography of Martin Aubé
Martin Aubé is a seasoned, world-class industrial designer from Québec, Canada, and CEO of The Creative Unit Inc., founded in June 2004. Martin also has 18 years of experience at Bombardier Inc. (Bombardier Recreational Products, BRP, and Bombardier Aerospace from 1986 to 2004). In 1998, he was granted the title of Expert Industrial Designer, Advanced Concepts, at Bombardier Recreational Products. He contributed to many of Bombardier's achievements during his time with the company.
During his career, Martin was involved in the development of more than 20 mass‑production vehicles, and in the design of numerous other vehicles and accessory concepts.
Martin has a bachelor's degree in Industrial Design (BID) from Université de Montréal (1988). He has been a member of the Association des designers industriels du Québec (ADIQ) since 1992, and a professional member of the Industrial Design Society of America (IDSA) since 2013. He also holds a certificate in Aeronautics from Université de Montréal's École Polytechnique, a certificate in Fine Arts from Bishop's University, and he earned a second bachelor's degree in Art History from Université du Quebec à Montreal (UQAM) in 2009. He has also taught courses (SSHGD instructor in transportation equipment design) at UQAM since 2008 and has led university level seminars. For more information on his vision of teaching vehicle design, you can consult his blog at the following address http://ddd9651e20ma.blogspot.com
Martin's main skills are:
Industrial Design know-how

Rhino (preliminary CAD surfaces and modeling)
Concept Development / Advanced design

Preliminary human factors & ergonomics (HF&E).
Description of the studio
The Creative Unit Inc. is characterized by its creativity, its exclusive customer service, and its specific process adapted to the field of transportation (recreational, utility, defense) and product design through the use of specialized drawing techniques for fast concept visualization. We also offer conceptual illustration, clay model validation, CAD class A surfaces, renderings, and follow-up services, as well as formal recommendations for our customers' technical teams.
We are fortunate to live in a very interesting cultural melting pot (mainly English and French) which gives us insight into North American and European philosophies and specific views on transportation products and needs.
Our services and our fields of practice include: industrial design, transportation design (recreational, utility, defense), advanced concepts, creativity, product design, industrial design for the Québec and Canadian markets, winter-related projects, recreational products, conceptual illustrations, renderings, sketches, CAD Class A surfaces.
Design philosophy
The design philosophy shared by The Creative Unit and Martin is to draw on art history in creating classic yet functional products; to work as a team with engineering, marketing, and all stakeholders, while defending the design vision of a product; to use the main design tools daily to clearly communicate design ideas to all project team members; to teach young designers in order to create new talent while staying connected to new trends; and, finally, to keep the creative flame burning by developing a well-conceived vision of the future for customers or in-house projects.
Communications play a vital part at The Creative Unit. Whether we are communicating verbally and in writing with our clients, our team or our suppliers, we are proactive, respectful, well organized and precise. The strategic and tactical aspect is also very important to us, and visual communications, one of our major assets, is at the heart of that development and innovation process.
We believe industrial design is based on three types of action:
1. STYLE
Sculpture of the surfaces of bodywork (exterior/interior) or object, using all the visual know-how drawn from the field of fine arts.
2. VEHICLE ARCHITECTURE
Logical positioning of components (package) and refining human factors/ergonomics (HF&E) by task analysis, to conceive a distinct, optimized and functional vehicle and, lastly,
3. REVOLUTIONARY TECHNOLOGIES
or advanced concepts, defined as INNOVATION by a large number of people. The term "innovation" has now spread to all areas of industry and society, but as Derek Thompson rightly pointed out in the November 2017 issue of The Atlantic magazine, revolutionary technologies are more the result of two separate activities which require very different environments: INVENTION and INNOVATION.
Invention is done by scientists and laboratory researchers (as was the case with the Bell Laboratories transistors in 1940). Innovation, on the other hand, is an invention that is translated into a commercial product by research groups within the industry (such as the transistor radio sold by Texas Instruments in the 50's). Nowadays, inventions, rather than incremental innovation, are lacking.
The industrial designer is the link between inventors / INVENTION (science), technique (INNOVATION and ARCHITECTURE / ERGONOMICS) and art (STYLE). While remaining at our clients' service, we must analyze the level of action required for the projects under review, i.e. STYLE, ARCHITECTURE or REVOLUTIONARY TECHNOLOGIES, or at the very least, be able to establish the right mix of those three types of action.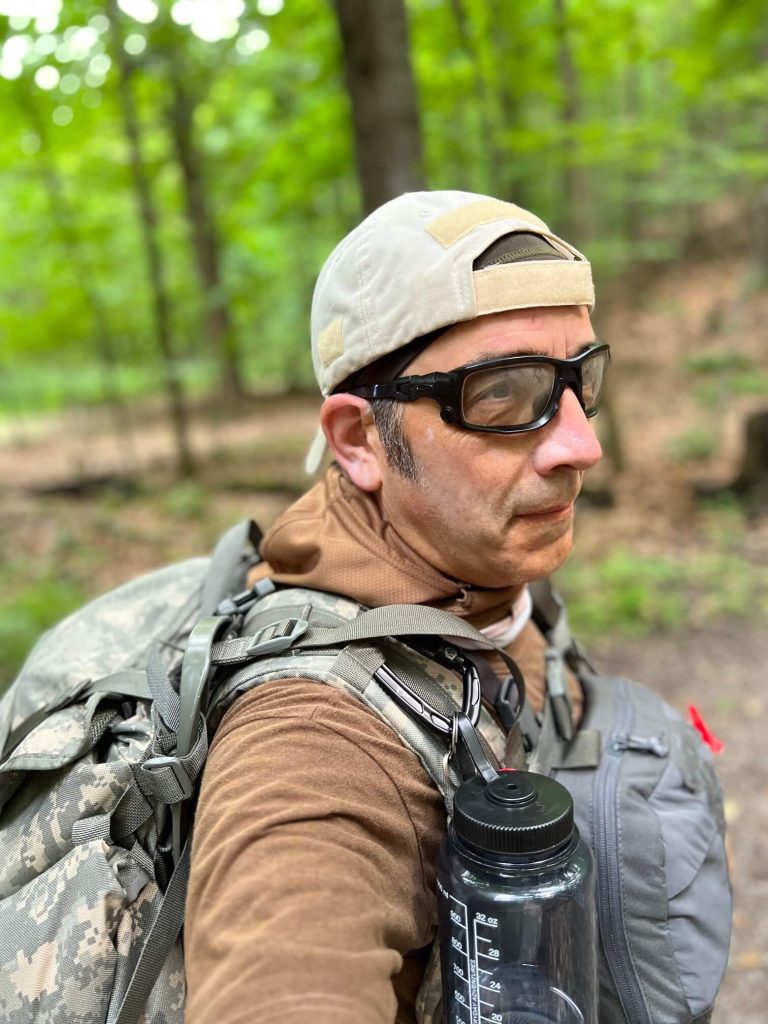 To reflect on projects, concentrate and get inspired, Martin Aubé practices running, endurance walking and walking with weighted backpack (rucking). Military training methods have proven their worth, why not use them for industrial design!